Top 10 Software to Block Windows 11/10/8 Updates Forever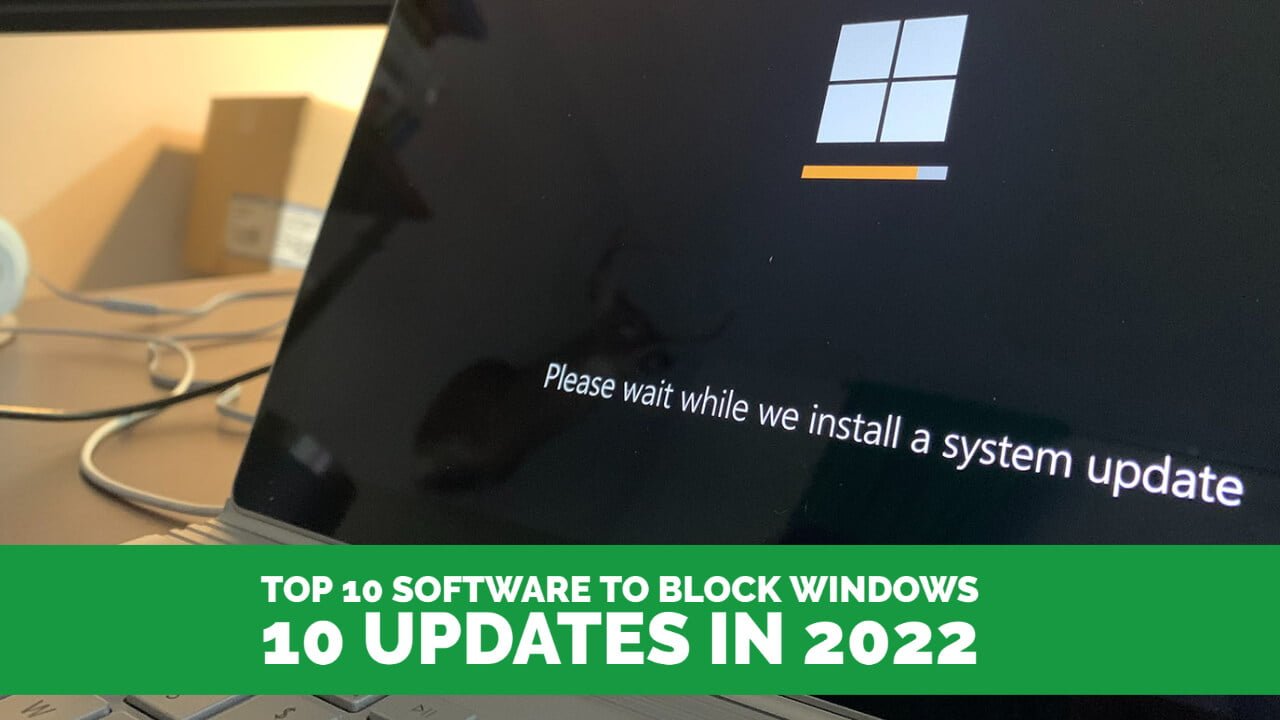 If You Want to Block Automatic Windows Updates, in That Case, You Should Try Windows 11/10/8 Updates Blocker Software. If You Look for Simple, User-Friendly, Open-Source Freeware Tools to Stop Windows 11 Updates, Then This Post is Only for You. These Tools Are Available for All Major Versions of Windows, Including Windows Xp, Windows Vista, Windows 7, Windows 8, Windows 10, and Windows 11. The Main Advantage of These Tools Is Their Simplicity and Functionality. I am Sharing all the Information Regarding Software to Block Windows 11/10/8 Updates in 2022 Just in a Single Post.
to Stop the Updates from Coming to Your PC, You Can Use any Windows Update Blocker Software from My Top 10 List. also, This Software Does not Alter Your Windows System Files. It Just Disables the Windows Update Service in Your Operating System. It also Prevents Unwanted Upgrades from Installing on Your System. the Best Features of These Programs Are That They Can Block Updates Automatically. They Can Stop All Updates That are not Wanted. They also Allow You to Roll Back to a Previous State by Restoring It from Its Last State. This Article Will Cover All the Windows Blocking Apps.
Here is The Top 10 Windows updates blocker software for Windows 11/10/8 that I am sharing with you. You can Choose any Software from my List and Disable Your Windows updates for Free
Win Update Stop
Windows update blocker
Wu10Man
StopUpdates10
WAU Manager
Kill update
Reg File
UpdateKiller
Windows update Disabler
WUMgr
#1 Win Update Stop
if you want the easy application to block windows 11 updates, you should try the Win Updates Stop application. This application is very light and easy to use. Even if you do not know how to operate a computer or are a beginner, you can still use this application and block unwanted updates on your machine.
The best part of this application is it has only two simple buttons to enable or disable automatic updates. This tiny application is freeware, and it is available for Windows 7, Windows Vista, Windows 8, and Windows 10, even windows 11 also You can download it Here.
#2 Windows update blocker
Windows update blocker v1.6 is a very famous application, and I am very sure You must have used this application once in your life on your windows machine. Windows update blocker is a free portable software that does not require installation means to say you don't need to install it on your pc, save this application on any USB drive or external drive, and use it on any computer.

This tool is easy to use; also, it has multiple features. This Tool has a very simple interface with two options one is enabled update, and the second is disabled updates. that's why many peoples love this application because of its usability.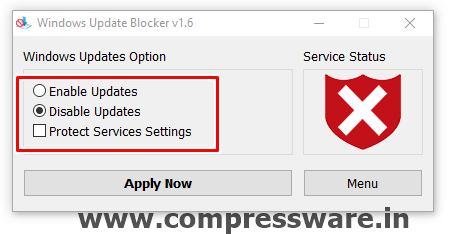 If you are using the latest Windows 10 or Windows 11 still you can disable or enable automatic updates in your windows system. Just download the Windows update blocker tool, extract it through WinRAR, run the Windows update blocker tool on administrator and disable and enable updates in your windows 10. The best part is it supports all Microsoft operating systems, Whether it is 32bit or 64bit. That's all.
#3 Wu10Man
Wu10Man is another portable application for disabling updates and removing unwanted applications from Windows 10. Wu10Man offers more features than other apps, such as disabling windows updates services, configuring group policy, and blocking certain websites from delivering Windows 10 updates.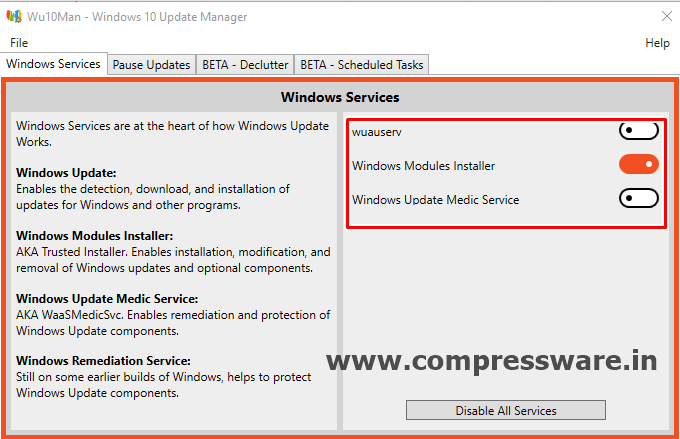 With the help of the Wu10Man application, you can block windows 11 updates. You can schedule or pause your updates. Also, users can configure group policies to manage updates coming from certain websites.
The process of blocking these services and websites is quite easy. This free, open-source application does not make any aggressive changes to the operating system, so don't worry. You can freely use this application and block any upcoming windows 10 updates. The software is completely free, and You can download it from the GitHub website or our website.
#4 StopUpdates10
You may have heard about the StopUpdates10 Tool, but have you used it? I think maybe not? The primary USE of this application is to disable Windows updates services by creating Registry keys. You can block Windows updates with this Tool. This tool is free to download, and it will automatically disable Windows updates when clicked on the stop windows update feature.
This tool is different from other apps because it has an undo feature that means the user can restore these changes or set them by just clicking on the undo button.
#5 WAU Manager 

Another helpful software to block Windows updates is called WAU Manager.WAU Manager is another great free tool for preventing automatic updates. It allows you to disable Windows updates with just one click. This software offers complete control over the configuration of Windows update. It will enable you to disable the automatic update permanently. WAU Manager support all version of windows. You can block a whole range of other types of updates with the help of the WAU Manage. the size of the program is just 705kb, and it is entirely free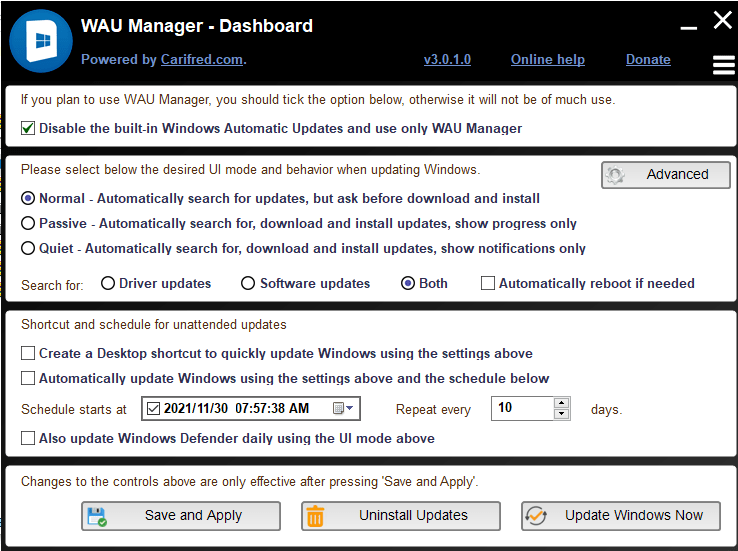 It's free and portable and works perfectly on different computers and laptops. you can save it on your external drive and use it anywhere
#6 Kill update
Suppose you are looking for an intelligent open-source Windows update blocker. In that case, you should try Kill update software because it is a brilliant application, and it scans and search each windows updates files every 10 seconds and disable updates immediately. It comes with fewer features, but it is very effective software. It provides extreme control on the windows updates process. That's why it is on my top 10 list, and it also works on all Windows versions, such as Windows 11.
The best part is that it automatically starts when you log in to your computer, scan each Windows update file, and immediately block them. If you want to stop the Kill Updates Process, you can manually close the kill update after completing your task.
#7 Reg File
We are providing you best working Reg File to disable windows 11 updates. You can use reg files to block Windows 11 updates. These Reg File can disable the Windows update services also disable specific updates that you don't want to install on your windows machine. Luckily, these Reg files are completely free, simple to use.
Some REG files crash the Your PC after running, but this reg file we have checked Personally will not harm your system. extract the reg file via WinRAR, run the reg file on Administrator, and finally click on yes that's all.
#8 UpdateKiller
If I want to Describe the update killer tool in one word, I will say this Tool is a powerful update killer tool. When you run Update Killer Tool in your windows 11 system, it scans and disables the services running in the background of Windows.
It is very small in size; I think just less than 10KB. It supports all versions of windows, Whether you are using old or new windows.
#9 Windows update Disabler
Windows update Disabler is one of my favorite tools because it comes with multiple languages. The best feature is enabling and disabling Windows Firewall, Windows Security Center, and windows updates services. It also works portable you can easily run the Windows update Disabler tool from your external devices. If you have old windows like windows XP, windows vista, and Windows 7, you can still run this wonderful application and block windows updates permanently.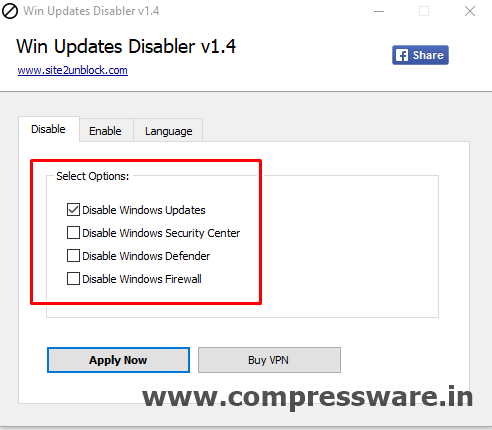 Windows update Disabler is a powerful, all-in-one Windows update blocker that allows you to disable automatic updates and Windows Defender. It also can enable and disable the Windows Firewall and Windows Security Center.
#10 WUMgr
WUMgr is the last but not least Windows update blocker software for Windows 11 in my top 10 list.WUMgr interface is complex for a beginner but easy to use. It works smoothly on windows machines because It uses Windows update agent API for a run. While WUMgr has many features, like allowing the user to install pending updates on a windows machine, other tools prevent automatic updates.
Final Word
If you have a Windows update blocker on your system, then your pc runs smoothly. Trust me; it is my personal experience. I think I shared all the information regarding the Windows 10 updates blocker tool in the post.
You might like to read:


Windows 10 Pro Final ISO Free Download

Windows 11 Profesional ISO Free Download

Microsoft Office 2021 Pro ISO Free Download